Seattle Creation Conference 2006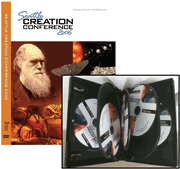 These seminars were recorded during the Seattle Creation Conference, Aug 10-12, 2006 at Overlake Christian Church, Redmond WA.
They may be viewed free online or downloaded to your computer as either a video or audio. DVDs can be purchased at our webstore as individual titles or the entire conference may be obtained as a compilation of 7 disks.
The Seattle Creation Conference is a regular event organized by the Northwest Creation Network. For information about the upcoming conference visit the Seattle Creation Conference website, or contact the NWCN to have us organize the next creation conference at your Church.
Dinosaurs and the Bible

by Steve Wolfe

Icons of Evolution

Intelligent Design

Light Speed and Other Puzzling Data
That May Support a Recent Creation

Our Created Solar System

The Rise of Darwinism and its Implications for Society

by Bruce Barton

Stretching the Heavens: A New Cosmology

Why There Must Be a Creator

Videos from our past conferences are available for viewing free online or purchase.
2004
2005
2006
2007
2009
2010
2011
2013