Why There Must Be A Creator:

You Mean it's OK to Think?
by Ray Rempt
Seattle Creation Conference, July 2006.
Description:
In this seminar Dr. Rempt examines PURPOSE and PREFERENCE, both of which contribute to and determine the more esoteric experiences of fulfillment and happiness, in addition to pointing to the inescapable conclusion of a caring creator. He also discusses how DESTINY is molded by DESIRE, and visa versa, and specifically seeing the creator as the author of each.
About the Speaker:
Ray Rempt brings a unique perspective to the pulpit. He has performed original research in atomic and molecular physics, optics, fiber optic sensors, magnetic detection and other disciplines. His training as a research physicist and aerospace engineer coupled with an intense pursuit of God and His Ways gives an interesting perspective, resulting in a challenging presentation to all types of groups, whether it be for inspiration or instruction.

Ray was raised in Los Angeles where he studied physics and received the Ph.D. from UCLA in 1969. He was the first student there to receive the degree "with distinction". Ray was significantly involved in the Jesus Movement of the 60's and early 70's, where he worked in Orange County at various schools, at colleges, universities, churches, and many para-church organizations. Ray is associated with Calvary Chapel. He became connected with YWAM at the Munich Olympics in 1972, and since then has been a regular speaker at YWAM schools and base meetings. Ray teaches in many parts of the world, in churches and universities, in camps, conferences, rallies, and other special functions.
Files:
Download Video File:
Download Audio File:
---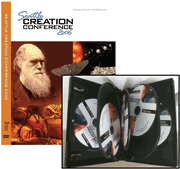 This seminar was recorded during the Seattle Creation Conference, Aug 10-12, 2006 at Overlake Christian Church, Redmond WA.
It may be viewed free online or downloaded to your computer as either a video or audio. A DVD can be purchased at our webstore as an individual titles or the entire conference may be obtained as a compilation of 7 disks.
The Seattle Creation Conference is a regular event organized by the Northwest Creation Network. For information about the upcoming conference visit the Seattle Creation Conference website, or contact the NWCN to have us organize the next creation conference at your Church.