About the Northwest Creation Network
The Northwest Creation Network (NWCN) is a Christian ministry specialized in educational outreach in creation science apologetics. Our mission is to encourage the Church to trust in the Bible as authoritative on early Earth history, and equip Christians to witness effectively to those who believe in evolution. We inaugurated our missionary service in 1995 as developers of this website.
Educational Events
The NWCN serves as a hub of Biblically-based apologetics education activity in the Northwest USA where we organize monthly programs, an annual conference, as well as offering seminars and classes at Christian schools, Churches, Christian teacher's conventions, and regional creationist groups.
The purpose of these events is to strengthen faith against the false teachings of naturalistic science, and encourage the Church to trust in the Bible as authoritative on early Earth history. They feature speakers, authors, and educators with diverse backgrounds in Biology, Geology, Astronomy, Archaeology, and Christian Apologetics who are dedicated to defending the Bible. .During these events the NWCN offers a wide assortment of books and videos on various creation apologetics subjects.
Educational Resources
The internet has truly revolutionized the ability of a modern ministry to reach the world via this media. The world wide web is readily accessible today in developed countries, and has become the first choice of information for the average person. It is therefore, one of the primary goals of the Northwest Creation Network to provide a public service site for use in developing creation science curriculum.
There is a desperate need for creationists to teach in their local church, and the NWCN website has been prepared to assist the Christian community in locating educational material that would be useful in preparing course or lesson plans. We provide free resources, such as PowerPoint presentations, videos, audio files, and articles. We also maintain a large directory of creation science internet links. Contact the NWCN if you have a site to recommend or educational resources to upload.

We develop the
CreationWiki
, which has grown to become one of the largest encyclopedias of creation apologetics on the internet. The
Creation Wiki
is an international collaboration website that was founded by the Northwest Creation Network in 2004. It is unique among similar wiki sites in that only creationists are permitted to serve as editors. The site is being translated into several languaged, such as
Portuguese,
French
,
Russian
, and
Spanish
, and has received over 50 million hits. Consider joining in the development of this valuable educational resource and fight against scientific disinformation by becoming a
contributing editor
or investing
financial support
.
Fund Raising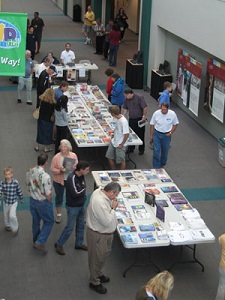 Our efforts are supported financial by donations and through sales at our web store where we offer creation science books, videos, audio programs, and course curriculum.
Our Creation Science Store offers a wide variety of educational books, videos, audio disks, and curriculum. More than 300 titles are available, which range from introductory apologetics to materials suitable for extensive research projects in creation science.

Our goal in making these materials available is help the Church defend their faith against the false teachings of naturalism. We are a not-for-profit outreach mission. All proceeds from sales are used to fund our creation educational activities, including the server fees for the CreationWiki encyclopedia, and our conference or other programs in the Northwest USA.
---
Resources available on the NWCN websites
---
How you can help this ministry