Apologetics Symposium
Join us the 3rd Thusday each month for an educational program at Cedar Park Church that will address the conflicts that exist between naturalism and the Biblical worldview. Each symposium will feature a different speaker confronting the philosophical and scientific aspects of atheism and evolution. This area of apologetics is an important part of discipleship in preparing the Church to answer the questions that may impede or lead to a loss of faith.
Always be prepared to give an answer to everyone who asks you to give the reason for the hope that you have. 1Peter 3:15
Presentations by speakers, scientists, and authors who defend the Biblical worldview.
Live Webcast provided for those unable to attend in person (Thurs 7pm Pacific)
Books and Videos for purchase in a wide variety of apologetics subjects and reader levels.
Free to Attend open to all Bible-believers and suitable for ages 11 and up.
WA Teacher Clock Hours may be obtained for attending (3 hour / 2 programs).
Refreshments are available.

Bring your favorites to share

.
Please help us spread the news of these important educational programs by publicizing this information to regional Churches, Christian schools, homeschool groups, pastors, teachers, youth leaders, and others concerned about the defense of faith in an environment of competing worldviews.
Location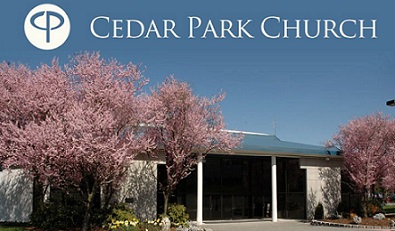 Cedar Park Church
16300 112th Ave NE
Bothell, WA 98011
Directions
What is Apologetics?
Apologetics is derived from the Greek word απολογία (apología) meaning "defense" or "answer." Apologists take on the particular task of defending a particular idea or belief system and answering its critics. The origin of the concept of apologetics lies in the beginnings of Christianity. Between the second and fourth centuries, a number of Christian teachers wrote defenses of Christianity against pagan critics. Since the development of the theory of evolution in the 19th century, creation science has become an extremely important Biblical apologetic.
For those who hold to the Bible as the inerrant Word of God, Biblical apologetics is an important branch of theology involved with the defense of the history and teachings given within. Loss of faith is often associated with challenges to the historical content of the Bible by atheistic scientists and philosophers, and one goal of apologetics is to provide answers to these questions.
I have spoken to you of earthly things and you do not believe; how then will you believe if I speak of heavenly things? John 3:12
---
---
---
2015 (3rd Thursday each month)
Past Programs
March 20th, 2014 Defeating Atheism with Science by Spike Psarris
April 10th

, 2014

Fossils: History in Contention by Chris Ashcraft
May 15th

, 2014

The Biblical Basis for Apologetics by Phil Fernandes
June 19th

, 2014

Apologetics 101: Answering the Challenges by Mike Riddle
July 17th, 2014 Earth's Surface Shaped by Receding Flood Water by Michael Oard
August 21st

, 2014

Programming of Life by Dr. Don Johnson
September 18th

, 2014

Biblical Worldview As It Relates to Science by Dr. Robert Carter
October 16th

, 2014

Dinosaurs: Monsters of the Ancient World by Bruce Barton
December 18th

, 2014

Climate Modeling of the Post Flood Ice Age by Dr. Larry Vardiman
January 15th, 2015 Truth, Lies and Science Education by Paul Taylor
February 19th

, 2015

Evolution's Four Fatal Flaws by Dr. Heinz Lycklama
March 19th

, 2015

Pl

anet of the Apes?

by Chris Ashcraft