Old Testament Archaeology
by Chris W. Ashcraft M.S., M.Ed., MTMS.
Description: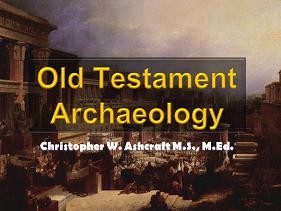 The Old Testament of the Bible contains rich and interesting stories of God's people that span more than 4000 years. However, this important historic record is under attack by Archaeologists who have claimed that the Biblical account of history is inaccurate or even fictitious. Well known events, such as the conquest of Jericho and the Exodus of the Israelites from Egypt, have been challenged on archaeological grounds.
This multimedia presentation examines these challenges and shows that when the evidence is revealed, science supports the historicity of the Bible. We will review several well known Biblical events and figures that can now be substantiated by recent archaeological investigations, and see that the Bible is a trustworthy in all things.
Files: