Creation Science and Apologetics Events


in the Northwest USA
NWCN Educational Events
Apologetics Symposium - Wednesday evening program at Cedar Park Church. Features a different speaker each month and is available through live webcast.
Seattle Creation Conference - annual 2-day event that occurs Friday evening and all day Saturday. It is free to attend and features multiple speakers from ministries around the world.
Classes and Seminars - We also offer seminars and classes at Christian schools, Churches, Christian teacher's conventions, and meetings of regional creationist groups.

Contact the NWCN to request a speaker or host the next creation conference!

---
Upcoming Regional Educational Events
---


Creation Conference October 19-21, 2018

Friday Night

1900-2100 Dave & Mary Jo Nutting - On the Creation/Evolution Road – A testimony of God's Grace!

Saturday AM

0800-0930 Session 1 - Incredible Creatures that Proclaim Creation - Dr. Jobe Martin

0940-1025 Physics and the Bible Demonstration Part 1 - Mark Finkbeiner

1035-1200 Session 2 - Great Day to be a Bible-Believing Creationist - Dave & Mary Jo Nutting

LUNCH

Saturday PM

1300-1430 Session 3 - Discovering the Wonders of Alaskan Creatures - Dr. Jobe Martin

1440-1525 Physics and the Bible Demonstration Part 2 - Mark Finkbeiner

1535-1700 Session 4 - Noah's Flood: Fact or Fiction? - Dave Nutting

DINNER

1900- 2100 Creation in Astronomy - Spike Psarris

Sunday School - Creation/Design Evidence in Costa Rica - Dave Nutting

Church Service AM - Creation Evangelism - Dr. Jobe Martin

Conference Summary

Creation Conference "Recognizing and Refuting Error" 19-21 Oct 2018, Temple Baptist Church, 4555 Arena Road, Richland WA. Understanding how the different science disciplines point to a Creator and that the battle is really one of worldviews. Biology (man and animal), physics, astronomy and geology will be presented by guest speakers Dave & Mary Jo Nutting, Dr. Jobe Martin, Spike Psarris and Mark Finkbeiner.
---

The Discovery of the Dead Sea Scrolls:

Qumran and the Bible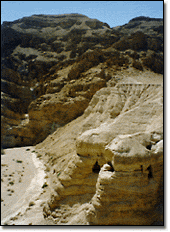 Multimedia Presentation by
Dr. Tim Campbell

November 7th, 2018
6:30 - 8:00pm

Cedar Park Church
Chapel of the Resurrection
16300 112th Ave NE
Bothell, WA 98011
Directions

Watch Live Webcast

Description:
An exploration of how the discovery of the Dead Sea Scrolls and the archaeology of Qumran shed light on the Bible and add to the credibility and authenticity of the transmission of the Biblical text. Using current scientific methods (DNA testing) and scholarly examination (paleography-handwriting) the scrolls come alive and provide a valuable resource in our study of scripture as God's Word.
About the Speaker:
Dr. Campbell is an ordained pastor and has a doctorate and master's degree in Ministry and Bible. He currently teaches at Cedar Park Christian School in Mountlake Terrace and pastors a Church in Marysville, Washington. Dr. Campbell has had the opportunity to view the Dead Sea Scrolls in Jerusalem and during traveling exhibits in Chicago, Seattle and Los Angeles. He and his wife, Carline, reside in Lake Stevens and have been married for 33 years and have three grown boys.
---

The Dinosaur Hunters
Seminar by Patrick Nurre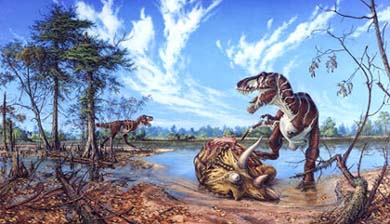 January 2, 2019
Wednesday
6:30 - 8:00pm

Cedar Park Church
Main Sanctuary
16300 112th Ave NE
Bothell, WA 98011
Directions
Description:
This is the story of the beginning of American Paleontology, the early dinosaur hunters, the early discoveries and the black eye on American Paleontology that was a consequence of the bitter rivalry between colleges, institutions and men in the discovery and naming of the early dinosaur finds. We are still paying the price for the greed, self-centeredness and mistakes of those early "heroes" of American Paleontology in the late 1800s. It is also an exciting story of courage in the midst of the Sioux Wars that were raging at the time.
About the Speaker:
Patrick Nurre was trained in secular geology, but after becoming a Christian, he began to seriously reevaluate his previous evolutionary beliefs, and became, instead, a young-earth creationist. Patrick has done field study in the Pacific Northwest, the Midwest and Plains states, the Southwestern U.S., and Israel. He conducts geology classes (PreK-12) and seminars in the Seattle area, and speaks at numerous home school and church conventions on geology and our young earth. He also leads a variety of geology field trips every year, including Yellowstone Park, where he helps families discover the Biblical geology of the Park. See his geology education website at http://www.northwestrockandfossil.com/
---
Other Regional Event Announcements
Events Outside the NW Region