Creation Science and Apologetics Events

in the Northwest USA
NWCN Educational Events
Apologetics Symposium - Wednesday evening program at Cedar Park Church. Features a different speaker each month and is available through live webcast.
Seattle Creation Conference - annual 2-day event that occurs Friday evening and all day Saturday. It is free to attend and features multiple speakers from ministries around the world. Our next conference will be Oct 14-15 2016.
Classes and Seminars - We also offer seminars and classes at Christian schools, Churches, Christian teacher's conventions, and meetings of regional creationist groups.Contact the NWCN to request a speaker or host the next creation conference.

---
Upcoming Regional Educational Events
---

Ape-Man?
Will the Real Ape-Man Please Stand Up


by Chris Ashcraft M.S., M.Ed., MTMS.
Wednesday March 29th, 2017
6:30 - 8:00pm

Cedar Park Church
Main Sanctuary
16300 112th Ave NE
Bothell, WA 98011
Directions
Watch Live Webcast (6:30pm Pacific)
Description:
Evolutionists argue that humans have descended from ape-like ancestors, thereby reducing humanity to the status of a primate animal. Darwin's seminal theory led inexorably to this conclusion. However, the Bible clearly states that we were created distinct from the animals, and "in the image of God".

This presentation examines the various "ape-men" used to support human evolution; including Neanderthals, Homo erectus, and Australopithecines. Were there really ape-men or is the infamous missing-link still missing?
About the Speaker:
Chris Ashcraft is a Christian educator employed as high school science teacher at Cedar Park Christian Schools. Formerly, Chris was a biology research tech specialized in plant tissue culture, and genetic transformation technology. He was employed at the Cotton Fiber Production Laboratory at Texas Tech University and the Plant Transformation Facility at Oklahoma State University, and lastly was the Plant Transformation Specialist for EDEN Bioscience in Bothell Washington.
He obtained a Bachelor of Science in biology from Wayland Baptist University in 1989, a Master of Science in biology from Texas Tech University in 1996, a Master of Education from the University of Washington in 2008, and a Master is Teaching Math and Science from Seattle Pacific University in 2012.
Chris moved from research science into the teaching profession to serve God in Christian education. His decision was motivated by the impact that secular science is having on people of faith. Today, close to 50% of Christian students lose their belief in God while attending secular schools. This tendency could be lessened if the Church was better equipped to defend the authority of Biblical teachings (1 Peter 3:15). To be prepared for these challenges, it is important that Churches provide regular educational programs on creation and other Bible apologetics.
---
Answer Evolution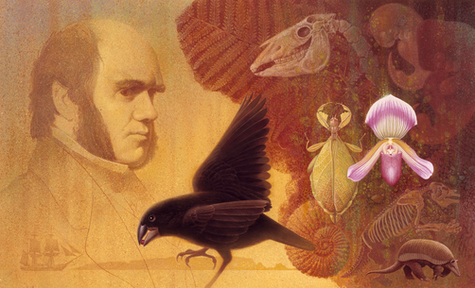 Seminar by Vince LaPoint
Wednesday April 5th, 2017
6:30 - 8:00pm

Cedar Park Church
Main Sanctuary
16300 112th Ave NE
Bothell, WA 98011
Directions
Watch Live Webcast (6:30pm Pacific)
Description:
The Bible says that in latter days, people will turn away from the truth and believe myths instead. Why would someone willingly exchange the truth in for a lie? Answer Evolution prepares us to respond to those who believe in evolution. We will consider some recent evolutionary myths and understand how a person's worldview affects what information we believe and what we reject.

We will review definitions of evolution and science and then we apply these definitions to examples that are commonly brought up as evidence to support evolution. We will provide evidence and arguments that directly challenge the improper and unscientific hypotheses on which evolution relies. Then we will consider some of the supposed transitional life forms and take a look at some living fossils. You will see that the actual evidence supports a literal interpretation of the Scriptures and you will leave with a deeper conviction of the truth. All attendees will be presented with a handout for taking notes that will help them later be prepared to Answer Evolution.
About the Speaker:
Vince LaPoint was not raised a Christian. During his upbringing, he was introduced to naturalism, astrology, witchcraft, eastern mysticism, and various forms of organized religion. In school, he pursued math and science and has spent the last 25+ years in the high-tech industry. Convinced from the empirical evidence, not just blind faith, that the Bible is the true and reliable Word of God, he has rejected those futile paths. He has followed the same empirical evidence investigation with the Origins issue as well, but now views the historical science data with skepticism, which he formerly took on faith. He now is a Christian and teaches classes on apologetics and creation/evolution and has been a guest speaker at other churches.

Vince now attends Calvary Chapel Eastside in Bellevue, WA and is involved in ministry there. He actively mentors (disciples) young adults, addressing the concerns that our next generation is wrestling with. With his passion for apologetics and creationism, his door is always open for those who come by his place in pairs and you might find him in spiritual conversations in restaurants and other locations. He is an active member of The Gideons International, taking advantage of the opportunities to share the testimonies of God's work around the world in churches, even as they distribute Scriptures locally and around the world.
---
Other Regional Event Announcements
Events Outside the NW Region