Can You Defend What You Believe?


by Mike Riddle
Seattle Creation Conference, July 2004
Description:
Mike Riddle presents challenges both the creationist and evolutionist in their ability to defend what they believe. It begins with an analysis of the Biblical foundation for creation and then demonstrates why evolution cannot be defended scientifically and must rely on faith. It shows how the layperson can successfully witness to an evolutionist by showing that evolution is without a foundation.
This 45 minute seminar by Mike Riddle was recorded during the Seattle Creation Conference July 2004 at Mill Creek Foursquare Church. DVDs of the Seattle Creation Conference are available for purchase in our web store.
About the Speaker:
Mike Riddle is an international speaker and educator on Christian education and apologetics with Creation Training Initiative. He is also an adjunct speaker for Answers in Genesis. Mike holds a degree in mathematics and a graduate degree in education and has been involved in creation ministry for more than thirty years. Prior to getting involved in creation ministry, Mike was a captain in the U.S. Marines and a national champion in track and field.
Files:
Download Windows Media Video file:
Download RealPlayer Video file:
Download PowerPoint file
---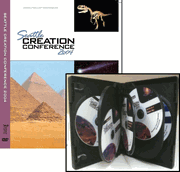 This seminar was recorded during the Seattle Creation Conference at Mill Creek Foursquare Church, Mill Creek WA, July 2004.

It may be viewed free online or downloaded to your computer as either a video or audio format. A DVD can be purchased at our webstore as an individual title or the entire conference may be obtained as a compilation of 7 disks.

The Seattle Creation Conference is a regular event organized by the Northwest Creation Network. For information about the upcoming conference visit the Seattle Creation Conference website, or contact the NWCN to have us organize the next creation conference at your Church.