War of the Worldviews:

Christianity vs. Naturalism
by John Byl PhD.
Seattle Creation Conference, October 2010.
Description:
Some claim science has "killed" God. Yet science is not objective but is very much worldview-driven. Worldviews reflect our most basic presuppositions about reality. The defense of naturalism & post-modernity are ultimately self-refuting. Christianity, on the other hand, gives coherence, meaning, purpose & hope.
About the Speaker:
Since 2009 Dr. Byl has been a professor emeritus at Trinity Western University, Langley, BC, where he began in 1978, took over as chair of the department of Mathematical Sciences in 1980 and received his full professorship in 1985. He received his Bachelor of Science degree in Mathematics from the University of British Columbia in 1969 and his Ph.D. in Astronomy from the same in 1973.

He previously worked as a visiting professor at Dordt College, Iowa, in the Physics Department during 1977-79. He also performed his post-doctoral fellow from 1973-75 and was a lecturer from 1975-77 at the University of British Columbia, Department of Geophysics & Astronomy in Vancouver, B.C. Canada.

Dr. Byl's research interests are in astronomy (celestial mechanics, cosmology), physics (special relativity), computing (cellular automata), mathematics (infinite tasks), interaction between science and religion. In recent years the focus of his research has shifted to philosophical and theological issues related to the foundations of mathematics, physics and cosmology.
Files:
Download video file:
Audio file:
PowerPoint file:
---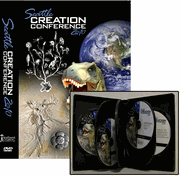 This seminar was recorded during the Seattle Creation Conference, October 2010 at New Life Four Square Church, Everett WA.
It may be viewed free online or downloaded to your computer as either a video or audio. A DVD can be purchased at our webstore as an individual title or the entire conference may be obtained as a compilation of 8 disks.
The Seattle Creation Conference is a regular event organized by the Northwest Creation Network. For information about the upcoming conference visit the Seattle Creation Conference website, or contact the NWCN to have us organize the next creation conference at your Church.