Worldviews in Conflict
by Chris W. Ashcraft M.S., M.Ed., MTMS.
Description: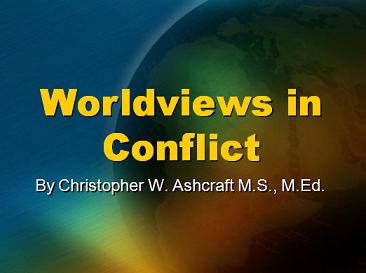 While the United States has a firm foundation in Christianity and the vast majority of the population believes in God, we are unable to teach about God in our public schools. This presentation takes a hard-hitting look at the War of Worldviews facing Christians today, and examines the factors that have contributed to the secularization of US schools.
In 1Peter 3:15 we are instructed to "Always be prepared to give an answer," and yet most Christian are unable to defend their faith through logic, reason, and empirical evidence. Using recent surveys and events to demonstrate the effects of evolutionism on society, this message will inspire those who tend toward scholarly pursuits in creation apologetics.
Files: