New Testament Archaeology
by Chris W. Ashcraft M.S., M.Ed., MTMS.
Description: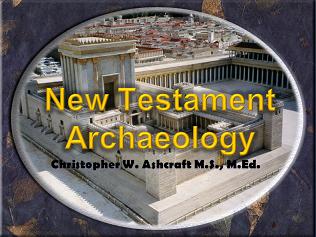 The New Testament of the Bible records the history of the new Church, beginning shortly before the birth of Jesus. However, this important record is under attack by Archaeologists who have claimed that the Biblical account of history is inaccurate or even fictitious. Key events in Christianity, such as the crucifixion, have been challenged on archaeological grounds because no records of the Roman governor Pontius Pilate had been found.
This PowerPoint presentation will review several well known Biblical events and figures that can now be substantiated by recent archaeological investigations, including the very resurrection of the Christ.
Files: