Featured Resources
Seattle Creation Conference 2011 Videos

Other New Videos

Genesis and Science Support Programmed Filling, Not Natural Selection seminar by Dr. Randy J. Guliuzza recorded April 19, 2012 to the Creation Association of Puget Sound, Bellevue Church of Christ, WA.

New MP3 files

Audio files from all Seattle Creation Conference seminars coming soon!
---
Creation Wiki Reaches 40 Million Hits!
The Creation Wiki is a community-build encyclopedia of creation apologetics that was founded by the Northwest Creation Network. The site has grown steadily since 2004, receiving about 500,000 hits per month, and is being translated into Portuguese, French, Russian, and others.

Consider joining in the development of this valuable educational resource by investing in your time or financial support. Only those who believe the universe and life on earth were created by God are permitted to serve as editors, and young earth creation science will remain the principal view on the website. We encourage you to become a registered editor today and join us in the fight against scientific disinformation.
Speakers:
Jonathan Sarfati
Jerry Bergman
Spike Psarris
Chris Ashcraft
Location:
Woodin Valley Baptist Church
5400 228th Street S.E.
Bothell, WA 98021
Details:
Conference Website
Download Brochure
Download Poster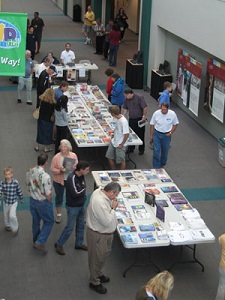 Schedule the next creation conference at your Seattle area Church, or request a speaker anywhere.
Contact the NWCN
.
---
Proceeds from the NWCN webstore support the CreationWiki, and our annual conference.

Shipping available to most countries.