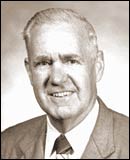 When did the dinosaurs live? What happened to the dinosaurs? Why don't we have dinosaurs today—or do we?
This audio file is a 48 minute seminar by Donald Chittick, which was recorded during the Seattle Creation Conference July 2004 at Mill Creek Foursquare Church. The file is a 5.7MB WAV file that is downloading now, and will begin shortly.
Windows Media Player Required for Streaming Audio
Donald Chittick holds a Ph. D. in Physical chemistry from Oregon State University, and has taught at the University of Puget Sound and George Fox College. A contributor to several books and periodicals, he has lectured on the creation / evolution topic throughout the past two decades. As an inventor, he holds several patents and is active in the area of alternative fuels.
Download Free Handout for use with this seminar. (MSWord Document)